JESI (Jurnal Ekonomi Syariah Indonesia)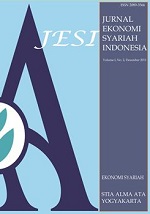 JESI (JOURNAL OF INDONESIAN SHARIA ECONOMICS) Indonesian Islamic Journal of Economics is a double-blind peer-reviewed journal published by the Department of Islamic Economics and Islamic Banking, Alma Ata University together with The Indonesian Association of Islamic Economists. This journal publishes research articles, conceptual articles, and empirical research on Islamic Economics. This Journal article is published twice a year; June and December. This journal will focus on providing quantitative, qualitative, and mixed methods research in the fields of Islamic Financial Institutions, Islamic Management, Islamic Accounting, Islamic Finance, Islamic Public Finance, and Halal Studies. The aim of this journal is to discuss very important topics in modern Islamic economics and finance. In addition, the aim of this journal is to provide research that is relevant and applicable to a wide range of Islamic Economics and Finance researchers and professionals.
Announcements
No announcements have been published.
Vol 13, No 1 (2023)
Table of Contents
Articles