Journal Title
: JESI : Jurnal Ekonomi Syariah Indonesia (Indonesian Journal of Islamic Economics)
ISSN
: 2503-1872 (online), 2089-3566 (print).
DOI Prefix
: Prefix 10.21927 by Crossref.
Editor in Chief
: Dhidhin Noer Ady Rahmanto.
Managing Editor
: Al Haq Kamal
Publisher
: Alma Ata University Press.
Frequency
: 2 issues per year (June and December).
Citation Analysis
: Crossref | Sinta | Google Scholar
JESI : Jurnal Ekonomi Syariah Indonesia is a double-blind peer-reviewed journal published by Departement of Islamic Economics And Islamic Banking Universitas Alma Ata with The Indonesian Association of Islamic Economist. The journal publishes research articles, conceptual articles, and empirical research of Islamic Economics. The articles of this journal are published bi-annually; June and December.
The journal will focus on providing quantitative, qualitative and mixed method research in the areas of Islamic Financial Institutions, Islamic Management, Islamic Accounting, Islamic Public Finance, Halal Study. The goal of the journal is to cover topics that are paramount in modern Islamic economics and finance. In addition, the goal of the journal is to provide research that is relevant and applicable to a diverse set of Islamic Economics and Finance researchers and professionals.
In 2020, JESI has been reaccredited by Decree of the General Director of Strengthening Research and Development, Ministry of Research, Technology, and Higher Education of the Republic of Indonesia (Sinta 4). JESI is indexed by Sinta, Google Scholar, Garuda, Crossref, Moraref, BASE, and One Search Indonesia. From the beginning of its publication in 2011, JESI has been registered with CrossRef. All articles published by JESI have a DOI number.
Journal Secretariat: Jl. Brawijaya No.99 Yogyakarta
Phone: (0274)4342288, 4342270
Fax: (0274)4342269
Email: jesi@almaata.ac.id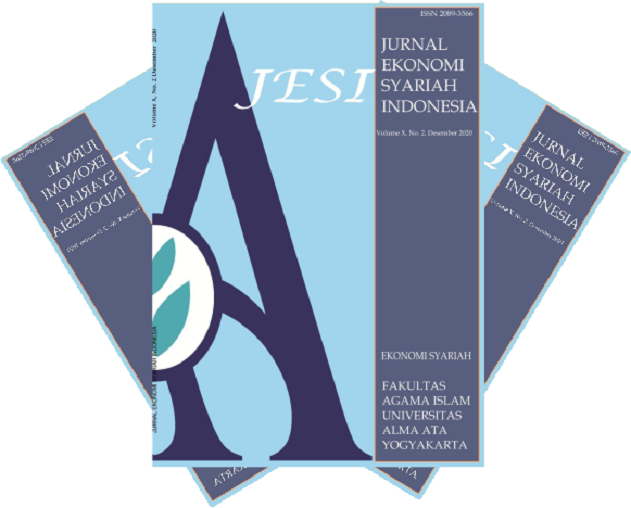 Announcements
CALL FOR PAPERS Vol 11. For 2021

Posted: 2021-02-01
More...